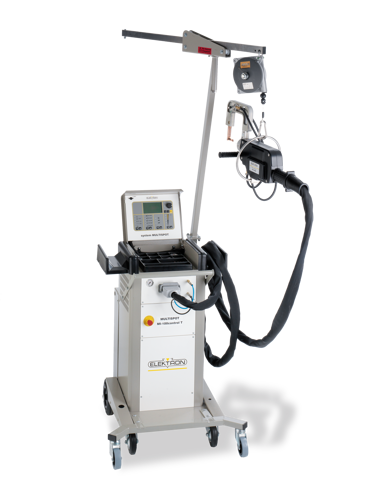 MULTISPOT MI-100control T
Intelligent Auto, transformer tongs
The MULTISPOT MI-100control meets the requirements of the automobile manufacturers and repair shops for process safety, investment security, and repair efficiency. High-quality inverter technology. Welding quality tested and approved by car manufacturers. The Electricity and welding parameters are adjusted automatically. Watercooled to the tips of the electrodes. All machines of the MI series have been developed for all kinds of auto steel such as: HSS, DP, TRIP, BH and PHS (like Boron, USIBOR, BTR). New Central "T" Connector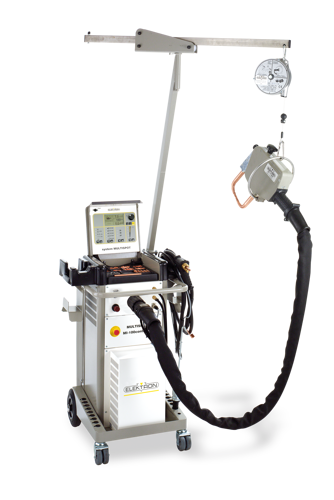 Intelligent Auto
The MULTISPOT MI-100control meets the requirements of the automobile manufacturers and repair shops for process safety, investment security, and repair efficiency. Light weight spot welding pliers. Huge variety of C- and X-pliers. High-quality inverter technology. Quick change of spot welding pliers or spot welding guns through a central connector. Welding quality tested and approved by car manufacturers. Electricity and welding parameters are adjusted automatically. Certificate eg for North America, China, Russia. Watercooled to the tips of the electrodes. All machines of the MI series have been developed for all kinds of auto steel such as: HSS, DP, TRIP, BH and PHS (like Boron, USIBOR, BTR)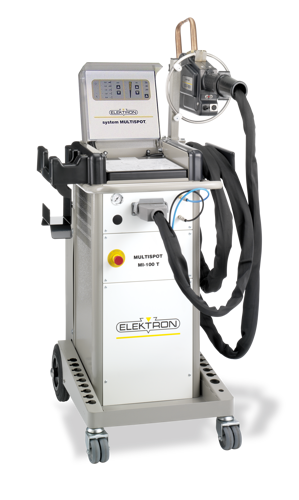 Reliable semiautomatic, transformer tongs
The new MULTISPOT MI-100 T is the basic machine for low-cost entry in the latest technology from ELECTRON. High-quality inverter technology. Welding quality tested and approved by car manufacturers. The welding parameters and electrode pressure force are adjusted automatically. Automatic adjustment of electrode force All machines of the MI series have been developed for all kinds of auto steel such as: HSS, DP, TRIP, BH and PHS (like Boron, USIBOR, BTR). New Central "T" Connector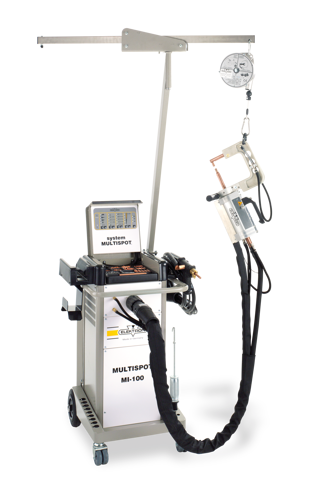 Reliable semi-automatic
The new MULTISPOT MI-100 T is the basic machine for a cost-effective introduction to the latest technology from ELEKTRON. High quality inverter technology. Welding quality tested and approved by the vehicle manufacturers. Welding parameters and electrode contact pressure are automatically adjusted. Water-cooled up to the electrode tips. All machines of the MI-series have been developed for all types of automotive steel, such as HSS, DP, TRIP, BH and PHS (like Boron, USIBOR, BTR). New central connection "T"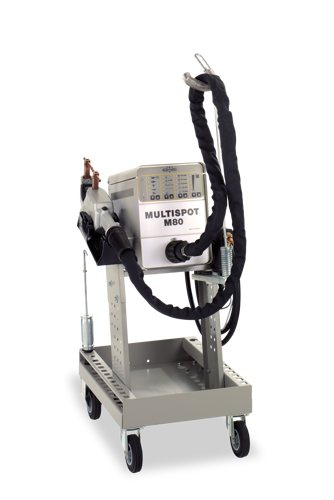 For standard-sized metal compounds
The world's best selling spot welder! Very light weight spot welding pliers. User friendly operator panel. Quick tool change of pliers or gun. CSA certification for USA, Canada and Mexico, automatic tool recognition.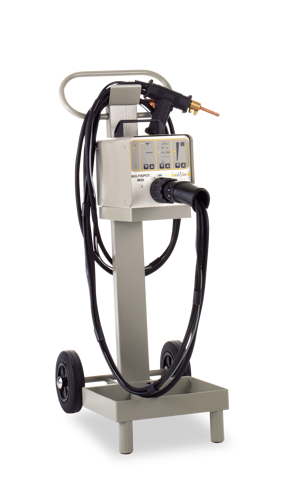 For automotive dent
MULTISPOT M 20 is the ideal complementary specialist for dent pulling MULTISPOT central connector. Alternatively, 1-phase 400 V.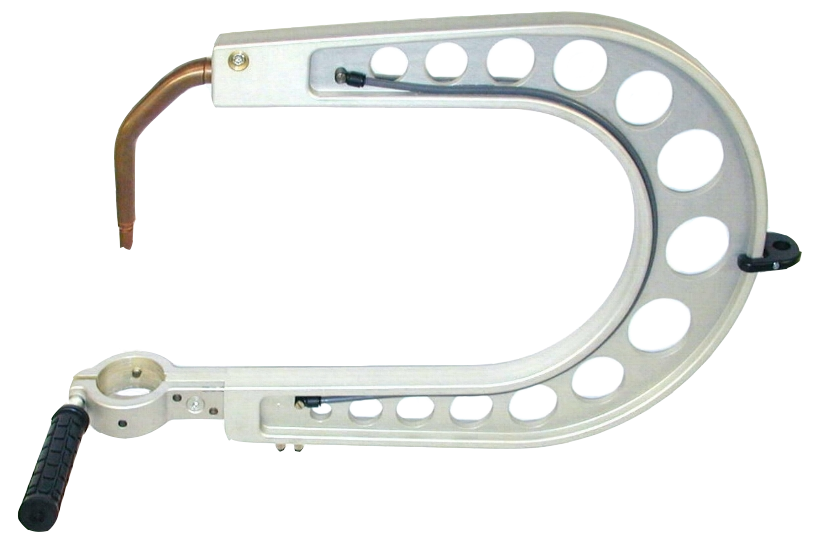 We offer various equipment for our spot welding machines
In our equipment catalogue you will find our components listed and explained in detail.
Head office: Tel. +49(0)421/54906-0
Distribution: Tel. +49(0)421/54906-23
Fax. +49(0)421/54906-83
Repair. Manuals: service@moor-e.de
Spare parts: vertrieb@moor-e.de
Society for Development,
Repair and distribution
electronic systems
Heidkamp 10
27721 Ritterhude